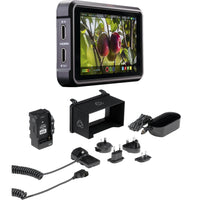 Overview
Expand your on-camera monitoring and recording options all the way up to 12-bit 4K60 ProRes raw with the flexible Ninja V Pro Kit from Atomos. Designed to bridge the gap between mirrorless and cine-style cameras, this kit pairs the popular Ninja V 5" Recording Monitor with an AtomX SDI module, an Atomos Connect 4K, and a pre-activated SDI Raw key. Designed to offer multiple recording options for both HDMI-output mirrorless cameras and SDI-output cine-style cameras, this bundle will keep pace with your choice of the latest cameras for each job you take on.
The Atomos Ninja V 5" 4K HDMI Recording Monitor is a 5" on-camera monitor/recorder that records and plays back up to DCI 4K and records to purpose-built mini-SSDs. This monitor can record Apple ProRes Raw up to DCI 4K60 directly from the sensor of select cameras. Display features include a 10-bit screen with a brightness of 1000 cd/m² AtomHDR technology for accurate monitoring of your log gamma footage, and support for popular log formats from Sony, ARRI, Canon, JVC, Panasonic, Nikon, RED, Sony, and Z CAM cameras.
The Atomos AtomX SDI Module for Ninja V brings 12-G SDI I/O to your Ninja V monitor/recorder. The module supports 4K up to 60p as well as 2K up to 240p and is a simple addition to your Ninja V, mounting to the expansion port in the battery slot. The 12-G ports are user assignable as input or output and support industry standard SDI formats. The AtomX provides numerous playback options including HDR.
The Atomos Connect 4K provides HDMI to USB conversion for live streaming applications. It allows you to run an HDMI signal to your Mac or Windows computer's USB port for use in streaming applications such as OBS, Twitch, and YouTube Live. Connect 4K accepts up to a UHD 4K30 HDMI signal and outputs up to a 1080p60 signal over USB. You can connect an HDMI camera to use as a webcam, gaming systems for live streaming gameplay, monitor signals, and signals from various other devices. When used with the Atomos Shogun 7 monitor, which is capable of recording and switching four 1080p60 signals, Connect 4K allows you to send the switched feed to your computer for streaming.
Key Features
Atomos Ninja V 5" Recording Monitor
AtomX SDI Module with 2 x 12G-SDI Ports
Atomos Connect 4K HDMI to USB Converter
Pre-Activated SDI Raw Capability
Up to 6K Raw Recording via HDMI & SDI
Simultaneous 1 x HDMI & 2 x 12G-SDI Out
1080p60 Streaming via Connect 4K
HDMI to SDI Cross Conversion
AtomHDR Support for Log Inputs & 3D LUTs
Sunshade/Battery Eliminator/D-Tap Cable
In the Box
Atomos Ninja V Pro Kit
Atomos Ninja V 5" 4K HDMI Recording Monitor

Master Caddy II

12V, 3A AC Power Supply

Battery Eliminator

Limited 1-Year Warranty

Upgradeable to Limited 3-Year Warranty with Product Registration
Atomos AtomX SDI Module for Ninja V

Limited 1-Year Warranty
Atomos Connect 4K

Limited 1-Year Warranty
D-Tap Cable
AtomX 5" Sunshade
Limited 1-Year Warranty
Upgradeable to Limited 3-Year Warranty with Product Registration