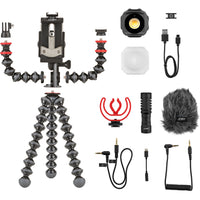 JOBY GorillaPod Mobile Vlogging Kit
Overview
Designed as a starter kit for mobile content creators, journalists, and influencers, the GorillaPod Mobile Vlogging Kit from JOBY bundles three of their products, which include the GorillaPod Mobile Rig, Beamo Mini LED, and Wavo Mobile Microphone. Use the Mobile Rig to stabilize your phone, while the Beamo and Wavo will add light and sound to your captures. Geared towards shooting video, the GorillaPod base allows the user to Grip It, Wrap It, and Stand It, depending on their shooting environment, while the GripTight PRO 2 mount supports both landscape and portrait orientations. Each creator can choose which elements to use with each shoot and even remove the mount to use a smaller mirrorless or other camera on the same stand with the Beamo light and Wavo mic. Also included is a TRRS cable for mobile phones and a TRS cable for cameras, an MFi-approved lightning cable, a shockmount, windshield, and carry bag, plus other accessories.
Create pro-grade videos, vlogs, and YouTube content with the GorillaPod Mobile Rig from Joby. Designed for content creators, this smartphone rig is flexible, portable, and user-friendly. The locking GripTight mount secures most smartphones, which can then be easily adjusted via tilt and landscape-to portrait mode as needed. Up to three additional devices such as mics, lights, and action cameras can be added using 1/4"-20 connections, and included are two 6-socket Gorilla arms with 1/4"-20 connections, plus two cold shoe mounts and one GoPro mount.
With one 1/4"-20 tripod mount and two cold shoe mounts that may be used for attachment to a tripod and other accessories, the Beamo Mini LED from JOBY is designed for mobile content creators, vloggers, and more. Its single LED outputs 1000 lumens at 5100K, with 470 Lux at a range of 3.3' and a beam angle of 55°, all of which helps to illuminate dim scenes or add fill to standard lighting conditions. Powered by lithium batteries that last for up to 100 minutes, it may be charged using an included USB Type-C to Type-A cable, which takes around 140 minutes. The Beamo Mini LED is waterproof and shock resistant, is protected against overheating, has a magnetic back so it may be attached to magnetic surfaces, and may be controlled using the myJOBY iOS or Android app, which allows for multiple Beamo Mini lights to be controlled at once. For additional lighting control and effects, the Beamo Mini features strobing and dimming, both of which may be controlled using a button on the light, or the mobile app. Included is a diffuser and a cold shoe adapter.
Created for mobile content creators who use cameras or compatible smartphones, the JOBY Wavo Mobile Microphone is designed to give you great sound quality on the go. This is a camera-mounted mic that plugs right into your compatible device, so you can get great audio in your videos. Plug it into your compatible smartphone, or use the included TRS cable for DSLR cameras and more. The mic focuses the audio capture on what's directly in front of the capsule thanks to its cardioid polar pattern. It comes with a high-quality shockmount from Rycote, which prevents the mic from picking up extraneous vibration noise as well as a high-quality windsock to keep unwanted elements at bay.
Key Features
Includes a GorillaPod Mobile Rig
Includes a Beamo Mini LED
Includes a Wavo Mobile Mic
Stabilize and Illuminate Your Content
Capture Audio
Supports Portrait and Landscape Modes
Also Includes TRRS and TRS Cables
Includes Lightning Cable
In the Box
JOBY GorillaPod Mobile Vlogging Kit
JOBY GorillaPod Mobile Rig

2 x 6-Socket GorillaPod Arm

2 x Cold Shoe Mount

1 x GoPro Mount

Limited 1-Year Warranty
JOBY Beamo Mini LED

Diffuser

Cold Shoe Adapter

USB Type-C to Type-A Cable

Limited 1-Year Warranty (from date of purchase)
JOBY Wavo Mobile On-Camera Microphone

Shockmount

Windshield

TRS cable

TRRS Cable

Carry Bag

Limited 1-Year Warranty