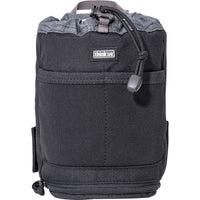 Think Tank Photo Lens Changer 50 V2.0
Overview
The black Lens Changer 50 V2.0 from Think Tank is a bit larger than the Lens Changer 35 V2.0 and is also a small, mid-weight padded nylon bag designed to hold a larger lens such as a 16-35mm f/2.8, 14-24mm f/2.8 or an 85mm f/1.2 - all with hoods in position It's a lightly padded bag that is compressible for easy storage or packing.
The Lens Changer features wide mouth access for easy retrieval of your lens and is secured by its one hand drawstring closure. There's a bungee cord top access. For maximum flexibility, it will attach to any optional Think Tank belt or belt pack. The pouch is made from a padded nylon and provides excellent protection to your valuable optic and is supported by a handy removable rain cover for when you're caught in the rain or snow.
Think Tank's "Rotate or Lock" system permits you to adjust the pouch on your optional belt to accommodate whatever shooting position you prefer - kneeling, standing or lying prone on the ground. This will enhance your photographic capabilities by making sure the pouch does not interfere with your preferred stance.
Outside, there are slip-in pockets for the lens caps. It also features attachment loops for the optional Think Tank Keep-it-Up Shoulder Strap while a top grab handle makes portability easy. The Lens Changer is backed by Think Tank's lifetime warranty against manufacturer's defects.
Key Features
Holds a 16-35mm f/2.8 or 14-24mm f/2.8
Holds 85mm f/1.2 / Hoods in Position
Holds Lens with Hood in Position
Wide Mouth Drawstring Opening
Includes "Rotate or Lock" Mechanism
Front Mesh Pockets for Lens Caps
Webbing Shoulder Strap Attachment
Attaches to Any Think Tank Photo Belt
Padded Nylon / Removable Rain Cover
Loops for Optional Keep-It-Up Strap
In the Box
Think Tank Photo Lens Changer 50 V2.0
Removable Rain Cover
Limited Lifetime Warranty